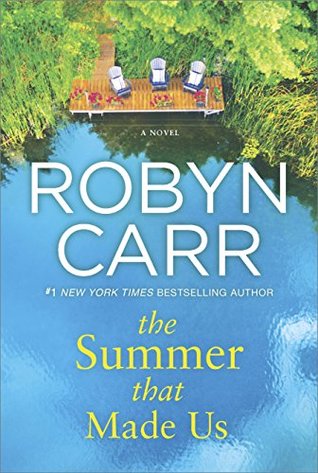 The Summer That Made Us by Robyn Carr
Print and e-book, 336 pages
Published September 1st 2017 by MIRA
Mothers and daughters, sisters and cousins--they lived for summers at the lake house until a tragic accident changed everything.
The Summer That Made Us
is an unforgettable story about a family learning to accept the past, to forgive and to love each other again.
That was then... For the Hempsteads, two sisters who married two brothers and had three daughters each, summers were idyllic. The women would escape the city the moment school was out to gather at the family house on Lake Waseka. The lake was a magical place, a haven where they were happy and carefree.
All of their problems drifted away as the days passed in sun-dappled contentment. Until the summer that changed everything. This is now... After an accidental drowning turned the lake house into a site of tragedy and grief, it was closed up. For good. Torn apart, none of the Hempstead women speak of what happened that summer, and relationships between them are uneasy at best to hurtful at worst. But in the face of new challenges, one woman is determined to draw her family together again, and the only way that can happen is to return to the lake and face the truth.
Robyn Carr has crafted a beautifully woven story about the complexities of family dynamics and the value of strong female relationships.


My thoughts about The Summer That Made Us ~~
(I love to note the first lines of the books I'm reading. First lines can really grab a reader's attention and I love seeing where the author takes the reader after their first lines.)
First line—
"Charlene Berkey was devastated. Her television career had come to an abrupt end."
This was a great story to read, but at the same time it was a tough story to read. These two families had so much going for them, summers together at the beach house, cousins getting together each summer making wonderful memories. Until one summer, when it all starts to fall apart. The drowning death of the youngest little cousin seemed to send everyone into a tail spin. But evidently, there was so much more going on, secrets were being kept, blame was placed on others, and sisters who were estranged for years and years afterwards.
Now, one of the cousins is dying of cancer and she wants to spend one last summer at the beach cabin, to try to heal this broken family. Everyone is invited to come and spend some time together but not everyone is happy about the prospect of opening up all the old wounds. The family dynamics and the drama of it all made this an engaging story that I was totally wrapped up in.
I truly loved this story with all the supposedly 'normal' characters as well as the ones with their plethora of issues. Not everything and everyone is who or what they appear to be and figuring it all out made this book a page-turner for me.
The Summer That Made Us
is my first Robyn Carr book but I loved her complicated characters and I loved the depth of her story, so it will not be my last. I will definitely be looking for more of her stories to read.
I received a copy of
The Summer That Made Us
from
Little Bird Publicity
via NetGalley in exch
ange for my honest opinion.
************************
About the author
A RITA award-winning author of 25 novels, Robyn Carr has found a whole new following with her stories about the independent women and former marines of Virgin River."
RT's Career Achievement Best Author Award winner (2010) for Contemporary Romance.
RWA's Nora Roberts Lifetime Achievement Award recipient 2016
Be sure to check the sidebar for my current giveaways!