It's Monday! What Are You Reading?
is a place to meet up and share what you have been, are and about to be reading over the week. It's an opportunity to visit other blogs and to comment on their reads. And ... you can add to that ever growing TBR pile! So welcome everyone. This meme started with J Kaye's Blog and then was taken up by Sheila from
Book Journey.
Sheila then passed it on to Kathryn at the
Book Date
. And here we are!
**************************************
We had another great week with some cooler temps, some rain. I love sweatshirt weather! Hubby was gone over the weekend so I was able to have some quality time to myself.... and I spent a good share of it reading cause, why not?
Thanks for stopping by. I hope you all have a good week. Happy reading!
What I'm currently reading
Cardinal Cabin
by Joanne DeMaio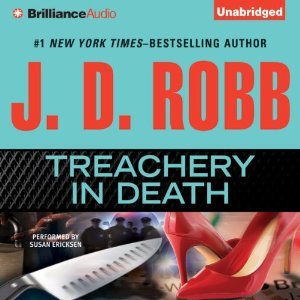 Treachery in Death (In Death #32)
by J.D. Robb, narrated by Susan Ericksen
(audio-book)
What I recently finished
Chasing Darkness (Stealing Light #2)
by Julie Cassar
My thoughts will be posted later this week.
Stealing Light
by Julie Cassar
This was a re-read for me as I got ready to read book 2. I love this series. Read my thoughts
here
.
Poetry of Presence: An Anthology of Mindfulness Poems
Phyllis Cole-Dai & Ruby R. Wilson
Beautiful book, inspiring words. Read my thoughts
here
.
What I am going to read next