It's Monday! What Are You Reading?
is a place to meet up and share what you have been, are and about to be reading over the week. It's an opportunity to visit other blogs and to comment on their reads. And ... you can add to that ever growing TBR pile! So welcome everyone. This meme started with J Kaye's Blog and then was taken up by Sheila from
Book Journey.
Sheila then passed it on to Kathryn at the
Book Date
. And here we are!
**************************************
It's been a slow reading week for me this week. Seems like I've been so busy at work and when I get home, we hang out on the patio enjoying the last of the nice days that by the time we come in, I'm too tired to read. Gasp!! How does that even happen. I guess I'm in what is called a 'reading slump.' The book I am reading now is for my book club this week and it's just not grabbing me. But I know I have to get it read—I'm finding other things to do besides read.

And.... we did have another weekend full of grandkiddos with some major family time coming up all next weekend. This is such a busy time for us right now. I want my reading life back to normal!
Thanks for stopping by. I hope you all have a good week. Happy reading!
What I'm currently reading
The Zookeeper's Wife
by Diane Ackerman
This is my book club read for later this week. Have you read it?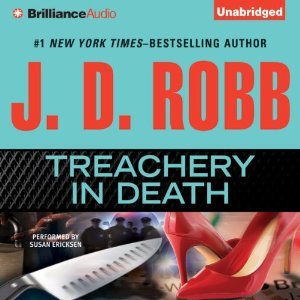 Treachery in Death (In Death #32)
by J.D. Robb, narrated by Susan Ericksen
(audio-book)
What I recently finished
Cardinal Cabin
by Joanne DeMaio
My thoughts will be posted tomorrow.
What I am going to read next