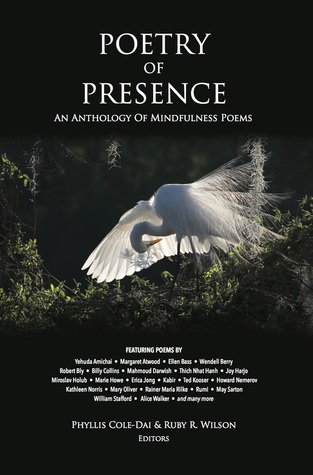 Poetry of Presence: An Anthology of Mindfulness Poems
Edited by Phyllis Cole-Dai and Ruby R. Wilson
Paperback, 248 pages
Published September 5th 2017 by Grayson Books
Mindfulness poems invite us to bring our whole self to whatever moment we're in, and truly live it. They encourage us to be more present, more attentive and compassionate, in the living of our days. They grant us a taste of being good enough, just as we are, in this world, just as it is.
Poetry of Presence
is a collection of more than 150 mindfulness poems, mostly by contemporary or recent poets. These poems call us to the Here and Now, and help us to dwell there. The Here and Now is all that truly belongs to us, and as the poets say, it's enough.
This is a book for the times we live in. An inspiring read for lovers of beautiful, accessible poetry, it's also a valuable resource for literature teachers, spiritual directors, meditators, interfaith clergy, mindfulness trainers, social workers, counselors, poetry therapists, hospice and grief workers, and medical personnel.
Anthologized poets include Yehuda Amichai • Margaret Atwood • Ellen Bass • Wendell Berry • Robert Bly • Billy Collins • Mahmoud Darwish • Thich Nhat Hanh • Joy Harjo • Tony Hoagland • Miroslav Holub • Marie Howe • Erica Jong • Kabir • Galway Kinnell • Ted Kooser • Howard Nemerov • Kathleen Norris • Mary Oliver • Rainer Maria Rilke • Rumi • May Sarton • William Stafford • David Wagoner • Alice Walker and many more.
Purchase Poetry of Presence
Congratulations Ruby and Phyllis
Poetry of Presence.
Originally from Ohio,
Phyllis Cole-Dai
now makes her home in Brookings, South Dakota, where she resides with her husband and teenage son in a cozy 120-year-old house.
Poetry of Presence
is her seventh
book,
and her only volume of poetry. She has also created four
music albums
and is in demand as a public speaker. "My profession," she likes to joke, "is whatever doesn't pay well." But don't let her humor fool you. Her work is driven by a profound desire to help create a more humane world for this and future generations. In 2013 her adopted city awarded her the 14th annual Dorothy and Eugene Butler Human Rights Award.
Ruby R. Wilson
graduated from South Dakota State University with majors in German and Geography. Though she had a hard time figuring out what she wanted to be when she grew up, she has now found her niche as an archivist in the University Archives & Special Collections Department at SDSU, and as a freelance writer and photographer. She has published three poetry
chapbooks:
Campus Sketches: Images of South Dakota State University in Word and Photograph
(2012),
At the Rim of the Horizon
(Finishing Line Press, 2014), and
Maybe the Moon is Falling
(South Dakota State Poetry Society, 2014), one of four winners of the Society's chapbook competition. She lives on a small acreage in rural Brookings County with her husband Jim. She can sometimes be seen gathering seeds from big bluestem and other native plants, or gazing at stars that aren't crowded out by city lights.
Fellow writers and great friends, Phyllis and Ruby brought complementary strengths to the creation of
Poetry of Presence
. Phyllis has practiced mindfulness meditation for more than half her life. Ruby possesses a poet's eye and ear, and a passionate love of language. They share the belief that mindfulness poetry can help change the world—one poem, one reader, at a time.
Be sure to check the sidebar for my current giveaways!