Manipulated Lives by H.A. Leuschel
Kindle Edition, 273 pages
Published June 8th 2016 by Helene Leuschel
Five stories – Five Lives.
Have you ever felt confused or at a loss for words in front of a spouse, colleague or parent, to the extent that you have felt inadequate or, worse, a failure? Do you ever wonder why someone close to you seems to endure humiliation without resistance?
Manipulators are everywhere. At first these devious and calculating people can be hard to spot, because that is their way. They are often masters of disguise: witty, disarming, even charming in public – tricks to snare their prey – but then they revert to their true self of being controlling and angry in private. Their main aim: to dominate and use others to satisfy their needs, with a complete lack of compassion and empathy for their victim.
In this collection of short novellas, you meet people like you and me, intent on living happy lives, yet each of them, in one way or another, is caught up and damaged by a manipulative individual. First you meet Tess, whose past is haunted by a wrong decision, then young, successful and well balanced Sophie, who is drawn into the life of a little boy and his troubled father. Next, there is teenage Holly, who is intent on making a better life for herself, followed by a manipulator himself, trying to make sense of his irreversible incarceration. Lastly, there is Lisa, who has to face a parent's biggest regret. All stories highlight to what extent abusive manipulation can distort lives and threaten our very feeling of self-worth.
My thoughts about Manipulated Lives ~~
Manipulated Lives
is a very interesting look at the manipulators who are all around us, as well as giving us some insight into those who are being manipulated. Each of the five stories in this collection deal with a situation the characters find themselves in and how they make it work for them or how they work to get out of it.
I previously read one of the stories in this set,
Tess and Tattoos
, and was intrigued by the subject and the writers concept for this collection. I jumped at the chance to read the rest of the stories. You can read my thought about
Tess and Tattoos
here
.
I enjoyed all of the stories and as I finished each one, I couldn't help but think about how there are so many different ways that people manipulate other people. And on the flip side of that, how there are so many ways, and reasons, that people allow themselves to be manipulated.
I love what the author wrote in her acknowledgments and this sums up the book perfectly—
the story of five people who, at different stages of their lives have to come to terms with the damage caused by someone's manipulative perversion.
These stories will make you stop and think about how you act and how the people around you act. Are you being manipulated? Or are you the manipulator?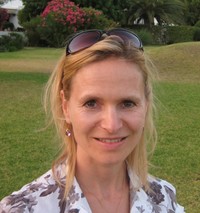 Helene grew up in Belgium where she gained a Licentiate in Journalism & Communication, which led to a career in radio and television in Brussels, London and Edinburgh.
She now lives with her husband and two children in Portugal and recently acquired a Master of Philosophy with the OU, deepening her passion for the study of the mind. When she is not writing, Helene works as a freelance journalist and teaches Yoga.
Website
|
Twitter
|
Facebook
|
Goodreads
Win a signed copy of Manipulated Lives
(Open Internationally)
*Terms and Conditions –Worldwide entries welcome. Please enter using the Rafflecopter box below. The winner will be selected at random via Rafflecopter from all valid entries and will be notified by Twitter and/or email. If no response is received within 7 days then I reserve the right to select an alternative winner. Open to all entrants aged 18 or over. Any personal data given as part of the competition entry is used for this purpose only and will not be shared with third parties, with the exception of the winners' information. This will passed to the giveaway organiser and used only for fulfilment of the prize, after which time I will delete the data. I am not responsible for despatch or delivery of the prize.
a Rafflecopter giveaway
****************************
Be sure to check the sidebar for all of my current giveaways!