It's Monday! What Are You Reading?
is a place to meet up and share what you have been, are and about to be reading over the week. It's an opportunity to visit other blogs and to comment on their reads. And ... you can add to that ever growing TBR pile! So welcome everyone. This meme started with J Kaye's Blog and then was taken up by Sheila from
Book Journey.
Sheila then passed it on to Kathryn at the
Book Date
. And here we are!
**************************************
Oh my gosh! We had a blizzard this past weekend. The wind was unbelievable! And the snow just wouldn't stop. Everything in pretty much the whole state (South Dakota) was closed down. We even had a snow plow/sand truck stuck in front of our house. How does that happen?
Both interstates in the state were closed for most of Friday and all day Saturday. And we're supposed to get more snow in the middle of the week through the weekend. I'm not sure if our trip to the Black Hills is going to happen now. So bummed! The snow needs to stop.
Here are a couple of pictures I took on Saturday to capture the craziness of the weekend.
This is our front window with a plant in front of it. The snow was stuck to the window when we got up Saturday morning. I thought this made a very interesting picture.
This is out the back door on Sunday morning. That's the door to the garage. We'll be doing some digging out.
Thanks for stopping by. I hope you all have a good week. Happy reading!
What I'm currently reading
Broken Wide (Mindjack: Zeph #3)
by Susan Kaye Quinn
I love this series and love that I'm reading another Mindjack story.
What I recently finished
Bridal Girl (Blogger Girl #3)
by Meredith Schorr
I love this series.
Bridal Girl
comes out next week. I'll be posting my thoughts tomorrow.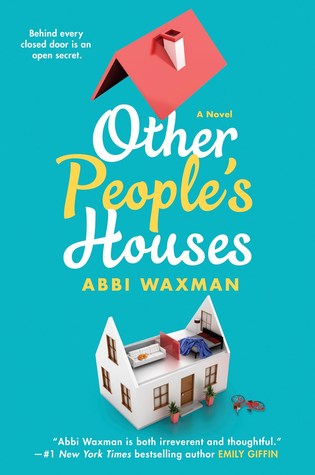 Other People's Houses
by Abbi Waxman
You can read my thoughts
here
.
What I am going to read next