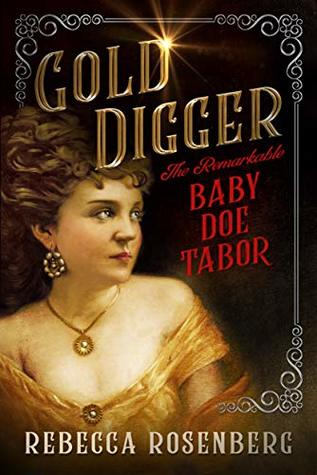 Gold Digger
Gold Digger: The Remarkable Baby Doe Tabor by Rebecca Rosenberg
Print and e-book, 290 pages
Expected publication: May 28th 2019 by Lion Heart Publishing
One look at Baby Doe and you know she was meant to be a legend! She was just twenty years old when she came to Colorado to work a gold mine with her new husband. Little did she expect that she'd be abandoned and pregnant and left to manage the gold mine alone. But that didn't stop her!

She moved to Leadville and fell in love with a married prospector, twice her age. Horace Tabor struck the biggest silver vein in history, divorced his wife and married Baby Doe. Though his new wife was known for her beauty, her fashion, and even her philanthropy, she was never welcomed in polite society.

Discover how the Tabors navigated the worlds of wealth, power, politics, and scandal in the wild days of western mining.
My thoughts about Gold Digger~~
(I love to note the first lines of the books I'm reading. First lines can really grab a reader's attention and I love seeing where the author takes the reader after their first line.)
First lines—"Tumbleweeds scraped across the Colorado prairie as Lizzie looked out the window of the Pullman railcar, rushing along rickety tracks, too fast, too far, even farther away from her family."

The story of Baby Doe Tabor is exciting—full of love, rich living, and beautiful things, while at the same time we get to witness the hard life she lived and the rags to riches and back to rags struggles she endured. She definitely was a very strong woman and one who was not afraid to speak her mind, which was pretty much unheard of at that time in the old West. What a spitfire she was!

I love that this story took me back to that old West and let me experience life the way it was back then. I became immersed in that time period and learned so much about the silver mining in that area. It was interesting to experience the life of an 'outsider' to the area as Baby Doe was shunned by society and was never really accepted. I admired her strength and her determination to get what she wanted.

Gold Digger: The Remarkable Baby Doe Tabor is a must read for historical fiction lovers. It truly gives us a look at the tough times, but also the glorious times, of the old West through the eyes of an amazing woman.


I received a copy of Gold Digger via NetGalley and this is my honest opinion of this book.


California native Rebecca Rosenberg lives on a lavender farm with her family in Sonoma, the Valley of the Moon, where she and her husband founded the largest lavender product company in America. A long-time student of Jack London's work and an avid fan of his daring wife, Charmian, Rosenberg is a graduate of the Stanford Writing Certificate Program.

Her books include: Gold Digger, the Remarkable Baby Doe Tabor, The Secret Life of Mrs. London, Lavender Fields of America, and the Champagne Widows series (2020). ~ Amazon